Online mentoring learning steps the user through four module of learning which include the PEPA Placement and discusses learner centred approaches, effective mentoring practices, mentor attributes and culturally-responsive mentoring practices. Over the sessions, a PEPA participant (Aisha) is followed on a PEPA placement, giving the mentor time to reflect on strategies and approaches to facilitate the journey.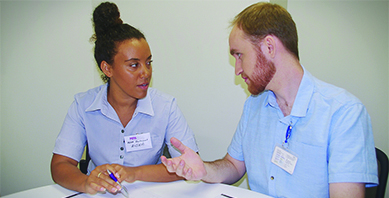 PEPA/IPEPA facilitators are approved team members of the PEPA team. PEPA facilitators are a range of people who deliver Education and Training material within the PEPA/IPEPA program.
To become an approved PEPA/IPEPA facilitator you will have to be approved by the PEPA manager from your State or Territory. For more information please email pepa@qut.edu.au
Only Managers of jurisdictions will be granted access to the content of this PEPA/IPEPA database.
For more information please email pepa@qut.edu.au